Boston, MA, July 11, 2016 – Spike Aerospace announced the addition today of partners MAYA Simulation and Siemens' Product Lifecycle Management (PLM) Software business to a global effort to develop the first supersonic business jet.
The partners join a global collaboration of leading aerospace firms developing the innovative Spike S-512 Quiet Supersonic Jet. MAYA Simulation and Siemens PLM Software will provide Spike with industry expertise in computer aided engineering (CAE).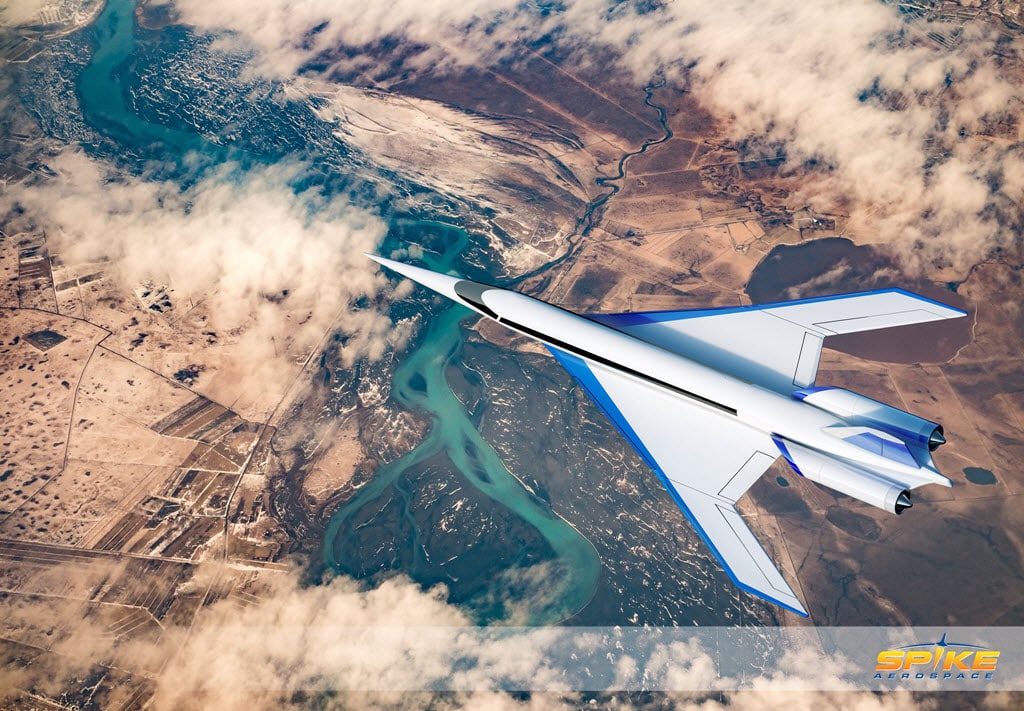 "We are very excited to have industry leaders MAYA Simulation and Siemens PLM Software join our collaboration to build the world's first supersonic business jet. Their innovative culture and deep expertise in CAE will be invaluable in developing an aircraft that will change aviation" said Vik Kachoria, President & CEO of Spike Aerospace.
"MAYA Simulation is proud to be contributing to innovative projects like the Spike Supersonic Jet. We look forward to supporting Spike with our engineering expertise using Siemens software in the development of this advanced, next-generation aircraft" said Inta Zvagulis, President of MAYA Simulation.
Designing and bringing to market the Spike S-512 Quiet Supersonic Jet is a multi-disciplinary effort that requires collaboration from industry experts in every aspect of aerospace engineering. Spike's global partners now include industry leaders in aerodynamic design, structural analysis, engines, manufacturing, and computer aided engineering.
The Spike S-512 will be the first supersonic jet designed with Quiet Supersonic Flight (QSF) technology, the proprietary innovation developed by Spike to minimize sonic booms by optimizing aerodynamic design. Flying at supersonic cruising speed, the Spike S-512 will cut flight times in half at a cost equivalent to a traditional business class ticket.

About MAYA Simulation


MAYA Simulation works with engineering firms to solve their most challenging issues. Their expertise in CAE and ability to address the specific needs of companies' applications, processes, organizations, and resources help promote innovation, reduce product cost, improve quality, and accelerate time-to-market. As a core Siemens PLM Software partner, MAYA brings an intimate knowledge of a broad range of products and technologies that enable the delivery of end-to-end solutions customized to meet the most demanding customer needs. http://www.mayasimulation.com
About Spike Aerospace

Spike Aerospace is leading a global collaboration to develop the world's first supersonic business jet, the Spike S-512 Quiet Supersonic Jet. This advanced next-generation aircraft with Quiet Supersonic Flight technology will save travelers up to 50% of current flight times. A world-class team of senior engineers with backgrounds from leading aerospace companies is developing the high-level conceptual design of this supersonic aircraft.  Top aerospace firms like MAYA, Siemens, Aernnova, and Quartus Engineering are providing their expertise in aircraft design, engineering, manufacturing, and testing.
Fly Supersonic. Do More. http://www.spikeaerospace.com/
Media Contact:
MAYA Simulation Inc.
Dominic Lachance
Marketing & Communication
Tel: (514) 369-5706 extension 379
Email: dominic.lachance@mayahtt.com
Spike Aerospace Inc.

Public Relations Manager
Tel. (617) 338-1400
Email: media@spikeaerospace.com