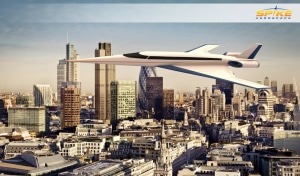 Spike Aerospace
Building the Next Generation of Jets
Spike Aerospace is leading a global collaboration to develop the world's first supersonic business jet, the Spike S-512 Supersonic Jet. This advanced next-generation aircraft, with Quiet Supersonic Flight technology, will save travelers up to 50 percent flight time. A world-class team of senior engineers with backgrounds from leading aerospace companies are developing the high-level conceptual design of the supersonic aircraft. Top aerospace firms, including Greenpoint Technologies, Maya, Siemens, Aernnova and Quartus Engineering are providing their expertise in aircraft design, engineering, manufacturing, and testing.
Spike Aerospace is based in Boston, MA in close proximity to MIT, Draper, Lincoln Labs, Avidyne, GE Aircraft Engines and numerous other aerospace companies. This provides the firm with numerous collaboration and licensing opportunities. The company continues to build its team which currently consists of seasoned executives, engineers, finance and sales professionals from the aerospace and aviation fields.
Fly Supersonic, Do More.
Partners