Time isn't just a luxury; it is an opportunity —
To accomplish more, enjoy more and relax more.
Spike S-512 Luxurious Cabin with Stunning Panoramic Views
Why have small porthole windows when you can have a much better experience with wall-to-wall digital screens showing the outside world, movies or beautiful images. It is quieter, stronger and the state-of-the-art aviation design.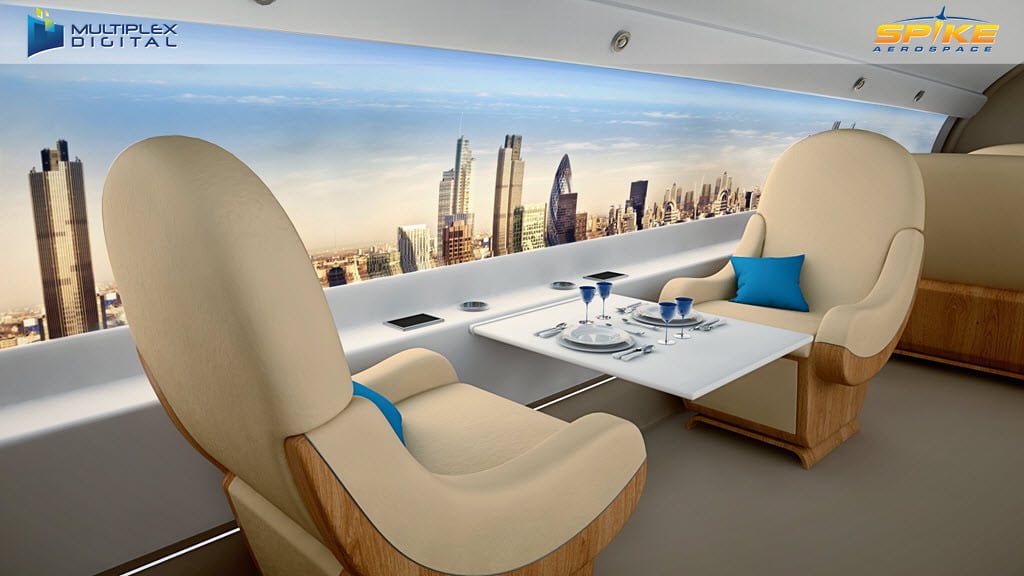 Supersonic Flight Lets You Be Everywhere
The Spike S-512 Supersonic Jet Cuts Flight Time by 50%
With the Spike S-512 Supersonic Jet you get to your destination faster and in luxurious comfort – for business or for pleasure. Wherever you are headed – New York, LAX, London, Dubai or Shanghai – the Spike S-512 Supersonic Jet cuts flight times in half.
NYC – London is a Short Day Trip on the Spike S-512 Supersonic Jet
Imagine NYC – London day trips. Leave NYC at 7am ET, arrive in London by 4pm GMT. Have a dinner meeting, leave at 9pm GMT. Be home by 6pm ET. A jaunt across the Atlantic is just another day at the office. No overnight stay required.
Spike S-512 Supersonic Jet is Quiet
The Spike S-512 flies without creating a loud disturbing sonic boom. That means it can fly over land from New York to LAX, Paris to Hong Kong, Dubai to Shanghai or Mumbai to London.
Using advanced engine technology and an aerodynamics design that minimize the shock wave, the Spike Supersonic Jet will be able fly overland unrestricted. That means, for the first time, supersonic flights across Europe, Middle East and Asia will be possible.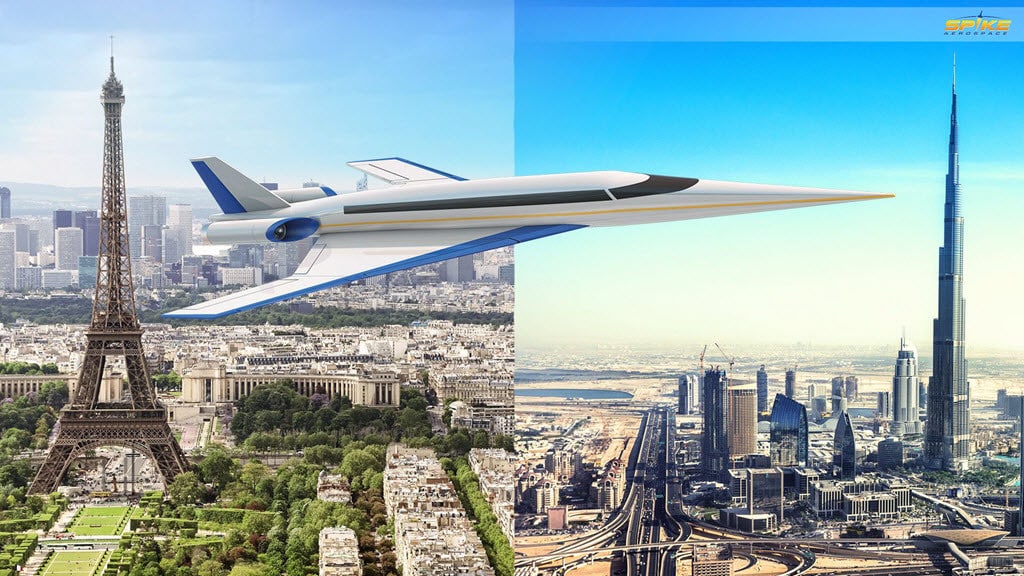 Spike SX-1 Demonstrator to Fly by End of Summer 2017
Development of the Spike S-512 Supersonic Jet is well underway with an incredible team of engineers from NASA, Boeing, Gulfstream, Lockheed Martin, FAA and others. They have designed and built business jets, airlines and supersonic vehicles.
The first flight of a Spike subsonic prototype will be towards the end of the summer 2017. This will be followed by a series of larger and faster aircraft leading to a supersonic demonstrator in 2018.
Spike S-512 Supersonic Jet is The Relationship Builder
Flights from NYC to Dubai are currently an exhausting and mind-numbing 12 hours long and NYC to Tokyo is 13 hours. On the Spike S-512 Supersonic Jet, you will get there in half the time. That means you can meet with suppliers, customers and key contacts easier and more often — resulting in better relationships.
What will you do with supersonic speed?
With the Spike S-512, you'll always arrive first – in the fastest and most advanced aircraft anywhere. This is the future of aviation, innovation, and luxury.
Recent Articles
Dec 12, 2017, somewhere over the Atlantic -- This morning Kevin Novak, VP of Flight Safety and Training, is on route to Cork, Ireland. He reported winds aloft of 200 kts (230 mph) out of [...]
The first things you'll notice upon entering the S-512's industry-exclusive Multiplex Digital Cabin are the expansive, high-definition screens on each side. These revolutionary displays can show any view you wish – your real-time aircraft surroundings, HD movies, even the screen of your laptop. Click here to learn more.
---
Success brings demands to be everywhere at once, and to attend top events around the globe. Any private jet makes getting there easier, but on the Spike S-512, you'll get there with time to enjoy. Click here to see how easy it will be.
---
Quiet Supersonic Flight technology makes the world smaller and easier to travel. On the Spike S-512, most destinations are just a day trip away. This opens up limitless opportunities for business or for pleasure. Crucial deals or film festivals? Client meetings or the front row at the World Cup? Click here to learn more.
---