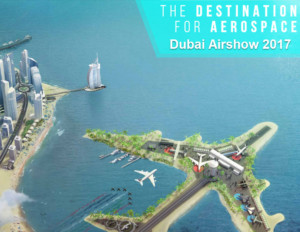 Boston, MA, Nov 12, 2017 — Spike Aerospace's executive team is in Dubai this week for the 2017 Dubai Airshow. It is a tremendous opportunity to build on relationships initiated over the past few years.
The Dubai Airshow is also a wonderful forum to meet with new customers and better understand their requirements for a private supersonic jet. Spike's team is happy to arrange meetings at the Airshow or in the region.
For some customers, the Spike S-512 Supersonic Jet is a time saver that helps them do more and build better relationships. For others, the Spike S-512 is an expression of their lifestyle and personal success. They are looking for a unique, luxurious and bespoke aircraft that gets them to destinations faster for shopping, entertainment and exclusive experiences.
The Spike S-512 can satisfy both needs. It is an elegant, luxurious and highly customizable private supersonic jet that cuts travel time by more than 50%. Saving travel time provides for superior experiences for personal and business travel.
Spike's President & CEO, Vik Kachoria said "I love coming to Dubai but unfortunately the 12 hour flight from Boston is something I can only do every few months. Supersonic flight on the S-512 will cut the flight time to about 6 hours. That means more frequent visits and the ability to build better, stronger relationships."
There are a lot of business executives facing similar challenges in travel. They need to visit their contacts around the globe but the long flight times makes doing that with the proper attention very challenging.
As the only Quiet supersonic jet, the S-512 will be able to fly overland at full supersonic speed without making the disruptive sonic booms the Concorde created. That means it will be able to fly supersonicly across the Atlantic and across Europe, Middle East and Asia.
In October 2017, the company successfully flew the SX-1.2 Demonstrator, a sub-sonic unmanned aircraft for the first time. The SX-1.2 was the first in a series of demonstrators leading to the full-size S-512 Supersonic Jet in 2023.
Please contact through the company's website to arrange a meeting.
About Spike Aerospace
Spike Aerospace is leading a global collaboration to develop the world's first supersonic business jet, the Spike S-512 Quiet Supersonic Jet. This advanced next-generation aircraft can fly from NYC to LAX or London to Dubai in 3 hours with almost no sonic boom.
A world-class team of senior engineers with backgrounds from leading aerospace companies are developing the high-level conceptual design of the supersonic aircraft. Top aerospace firms, like Siemens, Quartus, Aernnova, Greenpoint, BRPH and others are providing their expertise in aircraft design, engineering, manufacturing and testing. Fly Supersonic. Do More. http://www.spikeaerospace.com/