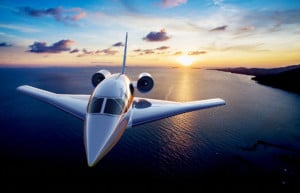 Boston, MA, Jan 24, 2017 – Spike Aerospace is expanding efforts to develop the world's first Quiet Supersonic Jet. Their sleek 18 passenger design will result in a quieter, faster, and more efficient supersonic aircraft.
Engineering is on track for the first flights of a subsonic prototype of the jet. The subsonic prototype will demonstrate low-speed aerodynamic flight characteristics. This will be followed by a series of larger jets, with a supersonic demonstrator already in the works.
"We made a lot of progress in 2016 in engineering, and finalized the addition of a number of engineers and partners. Our plans for 2017 are even more exciting as we continue development of the Spike S-512 Quiet Supersonic Jet. I'm looking forward to the first demo flights very soon" said Vik Kachoria, President & CEO of Spike Aerospace.
The company has recently added several advisors with experience selling corporate jets in the US, Canada, Europe, and the Middle East. These advisors will assist in discussions with individual and commercial customers.
The Spike S-512 will be the first supersonic jet designed with Quiet Supersonic Flight (QSF) technology, the proprietary innovation developed by Spike to minimize the sonic boom effect by optimizing aerodynamic design. Flying at supersonic cruising speed, the Spike S-512 will cut the flight timse in half at a cost equivalent to a traditional business class ticket. Deliveries of the S-512 are expected to commence by 2023.