Fly Supersonic. Do More.
Spike S-512 Supersonic Business Jet Key Highlights:

Speed: Mach 1.6 (1,100mph), 40% time savings
Passengers: 12-18
Range: 6200nmi

London to Hong Kong non-stop
Dubai to NYC non-stop

Patent-pending Quiet Supersonic Flight technology
Innovative Multiplex Digital Cabin
The Spike S-512 Supersonic Business Jet is a stunningly elegant and innovative business jet that sweeps passengers to their destinations in half the time it takes on other jets. Flying at Mach 1.6, it is 450 mph faster than any other civilian aircraft which enables Spike S-512 travelers to do more and enjoy more of life.
London is just a three-hour flight from New York — making a day trip for business possible. Or a quick jaunt to Paris from Dubai for shopping and entertainment – and back home again in time for dinner.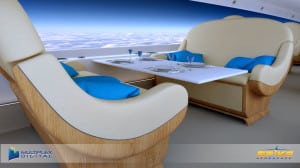 The Spike S-512's cabin incorporates patent-pending Multiplex Digital technology offering incredible panoramic displays of the outside world, your favorite movie or a presentation from your laptop — all on full-length high-definition displays. With room for up to 18 passengers and fully customizable interior configuration, you can work or relax in comfort and style on-board the supersonic jet that is redefining private air travel.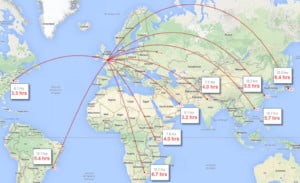 Flying supersonic is clearly the future of aviation, making the world smaller and more accessible. For competitive global businesses, cutting flight times in half will have significant value. Supersonic flight enables business leaders to manage global operations more efficiently, and to consider more investment opportunities abroad. With the Spike S-512, you'll always arrive first – in the fastest and most advanced aircraft anywhere.
For leisure travel, supersonic flight is an indispensable key to unlocking the wonders of the world at a moment's notice. Success brings demands to be everywhere at once, and to attend top events around the globe. Any private jet makes getting there easier, but on the Spike S-512 Supersonic Jet, you'll get there with more to enjoy – and you can get back home to be with your family in half the time.
Fly Supersonic. Do More. Contact us today for more information or to reserve delivery of your own Spike S-512.
---